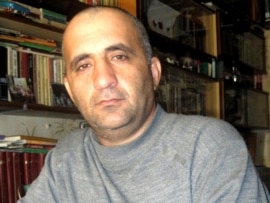 A lot has been said about the situation of BBC Tajik reporter Urunboy Usmanov, who is being tried in Tajikistan in extremely suspicious circumstances. But he is not obviously the only journalist facing problems with the local authoritarian regimes, which allow very little room for the press to maneuver apart from subscribing to every single decision by the ruling supremo. Here is an interesting and absurd case: Turkmen journalist Dovletmyrat Yazkuliyev, a stringer for Radio Free Europe,
was sentenced this week to five years in jail
. Little information ever come out of Turkmenistan – a country usually forgotten in a mist of post-Soviet repression – but Yazkuliyev made the mistake of blogging about a huge explosion which took place in the southern city of Abadan in July. According to official sources, the explosion killed 15 people, but opposition groups say it had a death toll above 1,300. And then Yazkuliyev was tried, facing the highly controversial (to say the least) accusation of "influencing" the attempted suicide of a member of his own family. PS: In Tajikistan, besides the Urunboy case,
local reporter Makhmadyusuf Ismoilov is also in court
, accused of "inciting ethnic tension" after publishing an article about abuses commited by authorities in the north. The trial has now been adjourned until the end of the month. He can be sentenced to 16 years.